Fisher Parrish Gallery is pleased to present HOMININ 3 — Ɛ Є E, New York-based artist Eric Timothy Carlson's first solo exhibition with Fisher Parrish Gallery, and his third show with our partner Patrick Parrish. Carlson's practice draws on deep-rooted iconography within the human psyche to create dense, enigmatic compositions which chronicle themes of discord, technology, language, degradation, and renewal.
Beginning with collection (of found images, objects, and theory) and generation (sketches and ideas compiled in personal notebooks), Carlson creates sweeping narrative drawings, collages, sculpture, graphic design, and now paintings made of small moments between disparate signifiers, playing with the expansive possibilities of collaging diverse symbols into a single context.
Hominin, the taxonomical category which includes humans and many great apes, is both a departure point and a summation of Carlson's newest body of work—his process often begins with an intuitive grid onto which he adds images, symbols and semiotic articles which have been found throughout history and in multitudes of cultures.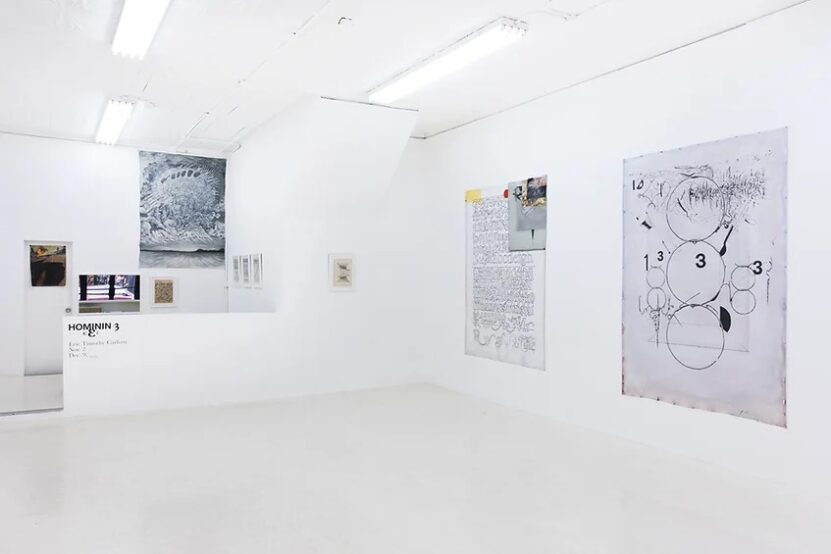 By unearthing, reexamining, and layering these source materials, he is able to create new narratives and to charge these symbols with new meaning. HOMININ 3 — Ɛ Є E surveys that which connects humanity as a whole (which Carlson views as a single, multifaceted organism), as well as the inexhaustible possibilities of perception and imagination within the limits of the individual mind.
Eric Timothy Carlson (b. 1984) is an interdisciplinary artist living and working in Brooklyn, New York. Carlson grew up in rural Minnesota before attending Minneapolis College of Art and Design. In Minneapolis, Carlson was deeply involved in the DIY music and arts community which served as a catalyst for his early output.
While exploring the enigmatic compositions of Eric Timothy Carlson's art, you may also be intrigued by our coverage of the Freddy's World exhibition held at the same gallery, showcasing another captivating artistic perspective.
Carlson has worked as an educator at MCAD, and appeared as a lecturer and panelist at other institutions. His design work was nominated for a Grammy Award in 2017. Recent solo exhibitions of his work include Ob Struct Err Ob Literate Or at Patrick Parrish Gallery, New York in 2014; 2 Apollo at Pioneer Works, New York in 2017; and NYPLPCETC01-04 at Printed Matter, New York in 2017, which coincided with the release of an artist's book and edition exploring the New York Public Library Picture Collection. Carlson created video compositions for Come Through, a piece in collaboration with Aaron Anderson, Bon Iver, and Tu Dance, performed live at the Hollywood Bowl in Los Angeles, California.
View this post on Instagram
HOMININ 3 — Ɛ Є E will be on view at Fisher Parrish Gallery November 2nd through December 9th, 2018. Please join us for the opening reception on Friday, November 2nd, 2018 from 6 – 9pm.
Gallery hours are Saturday & Sunday 1 – 6pm or by appointment.